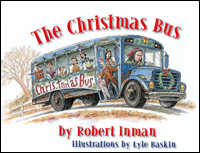 The Christmas Bus
Reprint Edition Copyright 2006 by Robert Inman
Published by Novello Festival Press
ISBN 0976096366
Read the First Chapter
Not so very long ago and not so very far away, there was a place called Peaceful Valley.
It was a green and pleasant place, with orchards and pastures and farmland, vegetable gardens and sturdy barns, and a dusty road meandering from one end to the other. But Peaceful Valley was not exactly a peaceful place, and the reason was the Peaceful Valley Orphanage. Read more.
Mrs. Frump, the bumbling but dedicated director of the Peaceful Valley Orphanage, wants her kids to experience an extra special Christmas with a real family – and no one will stop her! Not the law-abiding Sheriff Snodgrass, not the gossipy town busybodies, not even a broken down old school bus that's seen better days. Add a hitchhiking troubadour with a few dreams of his own, and you have a rollicking Christmas story for the whole family that's sure to become a holiday classic.